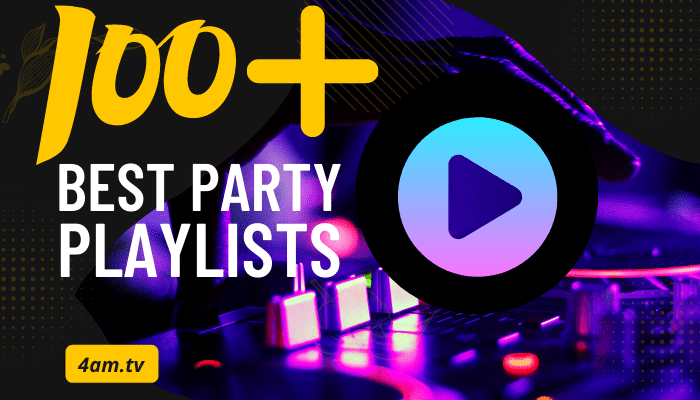 The fun of any party is determined by the kind of music played, and if you are a DJ, you need to have a playlist that will put everybody on the dance floor. If you are planning for your next party DJ or not, you need to grab this carefully selected playlist to wow your audience.
You don't need to have people sitting all-day hooked on their phones due to the monotonous nature of the party, strike something, and put the dance floor on fire.
Here's a list of the best Dj playlist of all time. Sorted according to the music genre.
BEST 80's PLAYLIST/PARTY SONGS
Even though we are in the 21st century, I will tell you that people are still obsessed with '80s songs. This is the best 80s party playlist that will have people belting out the lyrics and grooving to the music
I love Rock' n' Roll –The black jet
Paradise City- Guns N' Roses
Billie Jean –Michael Jackson
Physical – Olivia Newton-John
Jessie's girl –Frickin' A
Don't you forget about me –Simple Minds
Livin' on a Prayer – Bon Jovi
Girls want to have fun –Cyndi Laupar
We built this city – Starship
Your love – Outfield
I want to dance with somebody – Whitney Houston
Love shack – The B-52s
I am so excited – The pointer Sisters
Don't you want me – The human league
Never gonna give you up – Rick Astley
Thriller – Michael Jackson
Uptown Girl – Billy Joel
Need you tonight – INXS
Love will tear us apart – Joy Division
This list will go a long way to get everyone dancing like in the 80s and earn you a place in their heart as one of the best DJs.
BEST 90s PARTY SONGS PLAYLISTS.
In the '90s, music was at its peak in popularity and success, especially romance party music. It was a decade filled with boundary-breaking counterculture artists.
What will you play when you have a '90s-themed party on the horizon? You could make one epic throwback playlist with this list of '90s songs.
Here are the best 90 party songs to add to your '90s playlist.
Groove in the heart – Dee Lite
U can't touch this – Mc Hammer
Blue – Eiffel
Barbie Girl – Aqua
Everybody – Backstreet Boys
Genie in a bottle – Christina Aguilera
What is love – Haddaway
Wannabe – Spice girls
Gettin' Jiggy Wit It – Will Smith
Steal my Sunshine – LEN
All-star – Smash Mouth
Ice Ice Baby – Vanilla Ice
Hard Knock Life – Jay Z
Slam – Onyx
Jump – Kris Kross
California Love – 2pac
Wreckx-n-Effect – Rump Shaker
Can I kick it?- A Tribe called Quest
2pac California love is one of the most iconic hip-hop songs of the '90s. It will leave the guest thrilled as they dance to the beat.
BEST 2000s PARTY PLAYLIST.
In the 2000s, all genres reached their peak and became more famous because of the advent of streaming sites like iTunes and Pandora.
Here's our list of best DJ songs for parties ('2000s)
Forever – Chris Brown
Madonna – Music
Gold digger – Kanye West
Bottoms up – Trey Songz
Ignition – R.Kelly
Poker face – Lady Gaga
Romeo – Basement Jaxx
In Da Club – 50 Cent
Tim Tok – Ke$ha
Chris Brown forever is the song that will get everyone dancing. You will move around immediately after it's been played. Get your audience thrilled with your skills in selecting the best playlist for parties.
2010 BEST PARTY PLAYLIST
The year 2010 saw significant changes in music as it introduced more R and Bs party songs, e.g., the Katy Perry's firework. Here are the carefully selected party songs from 2010 perfect for an incredible evening with your friends.
Only girl (in the world) – Rihanna
Super Bass – Nicki Minaj
California Gurls – Katy Perry
Gold Dust – Dj fresh
Omg – Usher
Stuck like Glue – Sugarland
Hips don't lie – Shakira
Firework – Katy Perry
Turn down for what – DJ Snake
All I do is a win – DJ Khaled
Where them girls at – David Guetta
Don't stop the party – PitBull
We found love – Rihanna
I Gotta feeling – Black Eyed Peas
Shake it off – Taylor Swift
Just the way you are – Bruno Mars
I like it – Enrique Iglesias
Last Friday night – Katy Perry
BEST COUNTRY MUSIC
As a professional Dj, it is helpful to add country music to the list of your playlists for any party. It has a simple melody, and the lyrics are often tongue in cheek, and the grooves it brings will get the staunchest city stickers on the dance floor.
Here's a list of our best country music party playlists.
Here for the Party – Gretchen Willson
Life is a highway – Rascal Flatts
That's my kind of Night – Luke Bryan
Cruise – Florida Georgia Line
I've got friends in low places – Garth Brooks
Need you now – Lady A
One more last chance – Vince Gill
No shoes, No shirt, No problems – Kenny Chesney
Born to Boogie – Hank Williams Jr.
Redneck woman – Gretchen Wilson
Knockin' Boots – Luke Bryan
Brand New man – Brooks and Dunn
Day drunk – Morgan Evans
Walk it out UNK
The Hustle – Van Macoy
We are family – sister sledge
Cupid Shuffle – Cupid
Gangnam Style- PSY
Staying Alive – Bee Gees
I like it; I love it – Tim McGraw
Man! I feel like a woman – Shania Twain
Don't rock the Jukebox – Alan Jackson
Achy Breaky heart – Billy Ray Cyrus
Toes – Zack Brown Band
Summertime – Kenny Chesney
T-R-O-U-B-L-E – Travis Tritt
'Need You Now' by Lady A is undoubtedly a hit of country music. Whenever this song is being played at a party, it leaves the audience dancing hard while singing word to word.
We recommend you add it to the list of your country music playlist.
BEST AFROBEAT PLAYLISTS FOR PARTIES -2022
Our compiled list of the best afrobeat songs for parties is top-notch as you will get hold of different genres of music that are listed as the top tier music to be played at parties.
As a Dj, it is good to take charge of the arena when parties are going on.
You would not want to bore your audience with songs that are hard as a rock.
Joining the trend is vital; try and make playlists according to the trend.
Here's the list of best Dj Afrobeat songs for parties-2022
Mona Lisa – Lojay, Sarz
Baddest Boy – Skibbii, Davido
Commander- Blackbonez
Calm Down – Rena
Omo Ope(Ft.Olamide – Asake,Olamide
Jinja- Tekno
Come my way – Wande Coal
High –Adekunle Gold, Davido
Bloody Samaritan – Ayraa Starr
Ozumba Mbadiwe – Reekado Banks
Nkanyezi – Oscar Mbo, Dj Lesoul, Simmy
Rock- Olamide
Crazy things Tems
Loading – Olamide ft Bad boy timz
Kilometer –Burna Boy
Fadeaway – Kid Fonque, Mici
Respond – Mici, sun El Musician
Jola – De Mthuda, Sino Msolo , Da Muziqal Chef
Agolo – Angelique Kidjo, Shimza
Scent No –Sidney
Still I love you – Daasebre Gyamenah
Ahomka Womu – VIP
Show your love – Paapa Yankson
I dey Mad oh – R2Bees
16 years – Mzbel
Dada Dida – Rex Omar
Angelina –Praye
Emmanuella- Ofori Amponsah
Cash App – Bella Shmurda ft Zlatan and Lincoln
Bounce – Rema
Pronto- Ajebo Hustlers ft Omah lay
Understand – Omah Lay
Touch it – KiDi
Lie -kizz Daniel
Peru – Fireboy ft Ed Sheeran
Holy Father – victony and Mayorkun
Sip Alcohol -Joeboy
Mufasa – Tekno
Aso – Reggie zippy, Kwabena Kwabena
Mfa Me Nko Ho – Kojo Antwi
Aketesia – Kontihene
Finesse – Pheelz, BNXN aka Buju
Mohbad – Feel Good
Soroku Special – Kaakyire Kwame Appiah
Scatter my head – Guchi feat. Zlatan
Sudwe – K.K Fosu
Odo Esisi Me- Akatakyie
Toby Shang – Run this town
Italy – BlaqDiamond
Loyalty- Ajebo Hustlers
Highway – Dj Neptune feat Phyno
Squander – Falz and Niniola
She knows – Harrysong, Fireboy DML,Olamide
Ameno Amapiano Remix – Goya Menor,Nektunez
My friend – Bella Shmurda
MIXED WESTERN PARTY PLAYLIST FOR 2022
Here is the list of some of the party songs that couldn't make it to our lists of music categories.
Sally walker – Iggy Azalea
Boasty – Wiley feat.Stefflon Don, Sean Paul, and Idris Elba
No Guidance – Chris Brown ft Drake
Got girl summer – Megan Thee Stallion ft. Nicki Minaj and Ty Dolla $ign
I don't care – Ed Sheeran feat. Justin Bieber
No Brainer – Dj Khaled feat. Justin Bieber, Chance the Rapper and Quavo
Sucker – The Jonas Brothers
Sweet but Psycho – Ava Max
Kiss and make-up – Dua Lipa feat.Black Pink
Be honest – Jorja Smith feat.Burna Boy
Megathron – NickiMinaj
Who do you love – Monsta X feat. French Montana
Ungodly Hour – Chloe x Halle
Blinding Lights – The Weeknd
Won't be late – Swae Lee feat.Drake
Levitating – Dua Lipa feat. Dababy
Yo Perrero Sola – Bad Bunny
Please – Jessie Ware
Need to know – Doja Cat
Be sweet – Japanese Breakfast
Bad – David Guetta $ Showtek
Alive – Krewella
Opus – Eric Prydz
Promises – Nero
I can't stop – Flux Pavilion
Riverside – Sidney Samson
Cinema – Benny Benassi
Ocean Drive – Duke Dumont
Let me love you – Dj Snake and Justin Bieber
LRAD – Knife Party
Strobe -Deadmau5
Get low – Dillon Francis and Dj Snake
Tsunami – DVBBS and Borgeous
Gecko – Oliver Heldens
Money Mony – Billy Idol
Thriller – Michael Jackson
Stayin' Alive – Bee Gees
Sweet Caroline – Neil Diamond
Electric Boogie – Marcia Griffiths
Although different people enjoy different sounds and kinds of music, good music is a general language everyone that knows music admires. Dj playlists define the quality or level of quality of a DJ.
Aside from DJ playlists, DJ mixes also help DJs in the arrangement and organization of their work, so they put more effort into arranging DJ mixes to be appealing to the listeners. DJs can be ranked depending on their ability to create appealing music lists only by listening to the beats.
These party songs were curated to help young DJs kickstart their DJ journey with less stress. It can be challenging for new DJs to choose mind-blowing playlists for different occasions, but since we decided to interfere, many DJs were able to make it to the next level in their work.
There are more songs DJs can add to their playlists, but we decided to take it gradually to enable new DJs to have their strongholds before embarking on other levels of their work.
Conclusion
In choosing party songs, DJs are advised to flow with the sound of beats instead of the lyrics associated. As musicians continue making good music, we will always help you choose your playlists to keep up with the quality people need. To be a good DJ, you need to pay attention to other DJ lists to be able to learn as they say that learning continues, and no man is an island of knowledge.
One secret you need to know about making a good party playlist is flowing with the people's interest in the era and making your list out of the reigning songs at that time of year.
Since party songs are best if the songs are danceable, DJs are strongly advised to minimize including songs with only beautiful lyrics but dull beats. We are aware you have been powerfully equipped on how to choose your party playlist; we look forward to having you at the top.