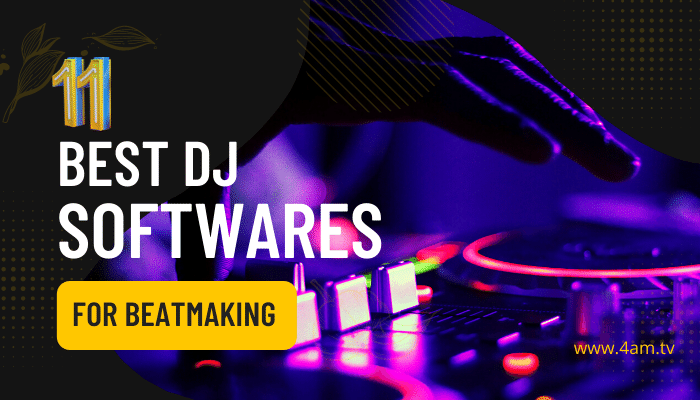 Whether you are new to this or just decided to become a Dj, there are many essential factors you need to step into to fit into the world of DJing. Like every other skill out there, Djing requires robust equipment and a high level of knowledge to help practice better.
Music is an art, and what makes music sweet is the component and varieties of spices added to it.
For a professional Dj, you need to master all associated skills and, most importantly, software that will help outsource the need to carry physical equipment (hardware)/desk all around.
Over the years, DJs have used the traditional way of mixing tapes (vinyl records). Still, the increased technological advancement and the ease of carrying a laptop with DJ software made it more accessible.
We have made a list of the best DJ software for you to go through, and we trust you will love the review.
Considering the many software out there that serve the Dj work, we must look at the few factors to consider before choosing the DJ software for your convenience.
After reading this article, you will discover the secret behind your opponent's unique music mixes.
AVAILABILITY OF STREAMING SERVICE
Not all software allows streaming directly from their platform. So, in choosing the best DJ apps for PC, you need to check if it is possible to live stream tracks to avoid being hooked along the way.
BUILT-IN EFFECTS
Some DJ software has an additional built-in effect, while some do not possess such. So, if you are checking out for a specific feature, you need to be sure if it is available.
Not all DJ apps allow a harmonic mixing effect automatically. You can perform some manually, so be specific while looking for one.
ACCESSIBILITY
While trying to get the best software, check the software's access. Some software is paid for before you can get access to it. But you also find the best DJ apps for PC free download.
There is no doubt that the best way to Dj right now is on digital software instead of the traditional vinyl record. Adopting DJ software is cost-effective, flexible, and convenient for DJs. The best reserved for the last is a usual statement, but we would allow you to discover the best yourself among the lists below.
Here is our list of carefully selected and the best DJ apps in 2022
Ableton Live.
Serato Dj.
Mixxx.
Traitor Pro3.
Virtual Dj.
Pioneer rekordbox.
Algoriddim Djay pro.
Magix digital Dj.
Engine Dj.
Pcdj dex 3.
Image line FL studio 20 producer
ABLETON LIVE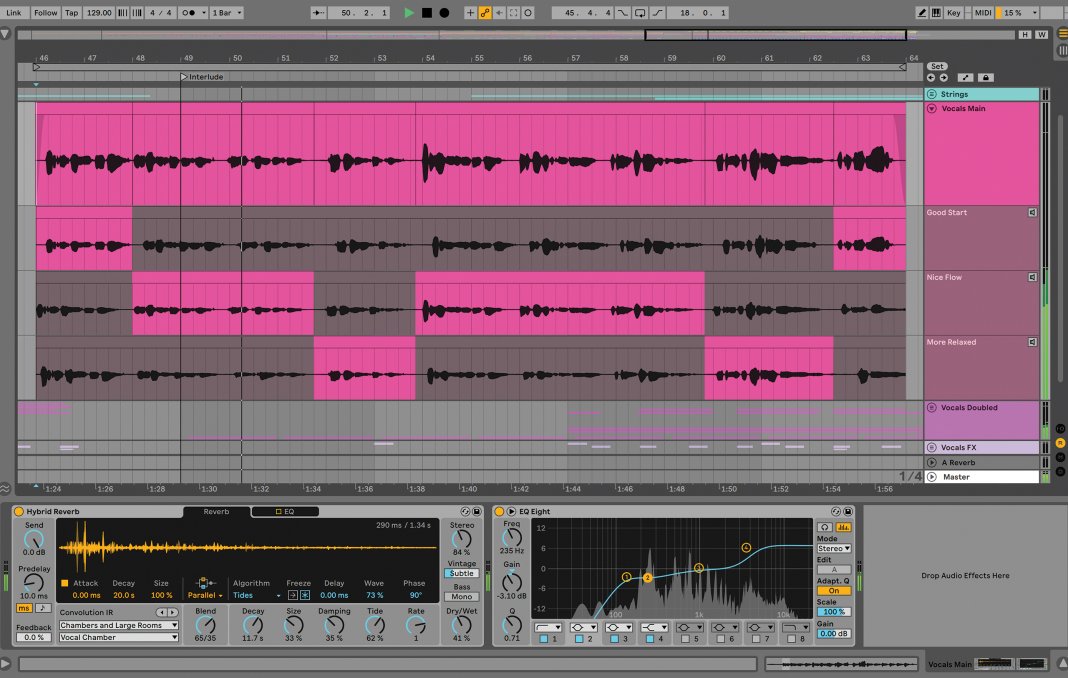 Ableton multitrack is one of the most popular DJ tools around the world. Ableton is an instrument for live performances and a tool for composing, mastering, mixing, arranging, and arranging music tracks. Another exciting feature is that it has a session view part. The session view feature lets you launch synced audio samples, tracks, and MIDI clips.
The minimalistic interface and unique workflow of Ableton live DJ software help creatives produce intriguing tracks. Editing songs is more accessible as you only need to manipulate paths in real-time without hitting stop on audio.
It has an extensive sound library, so it doesn't need to go overboard purchasing loops and sounds. With Ableton Live, you already have access to tons of sounds, samples, and loops. Sounds interesting, right!
There are over 1800 sounds in this Dj software, and you will take your recording to the next level with this software.
ABLETON LIVE PROS
Ableton live is easy to edit
You can create new tracks to suit any style
It is compatible with a variety of plugins
It has a multitrack audio recording and MIDI sequencing.
It has a 90-day free trial in case you are looking for the best app for DJ mixing for free.
ABLETON LIVE CONS
Ableton live doesn't have a pitch correlation.
It is suitable as a robust system for vivinyl.
SERATO DJ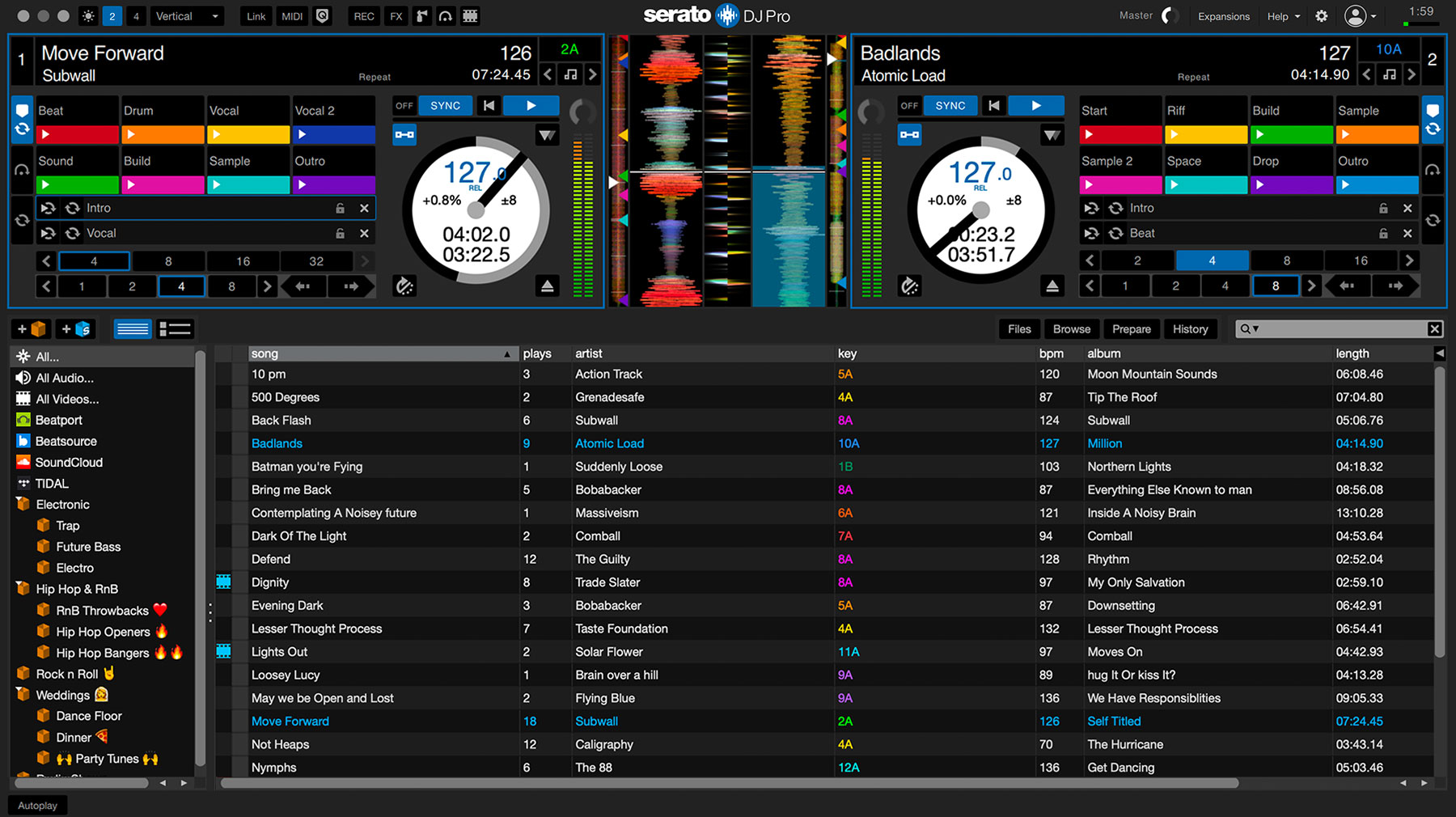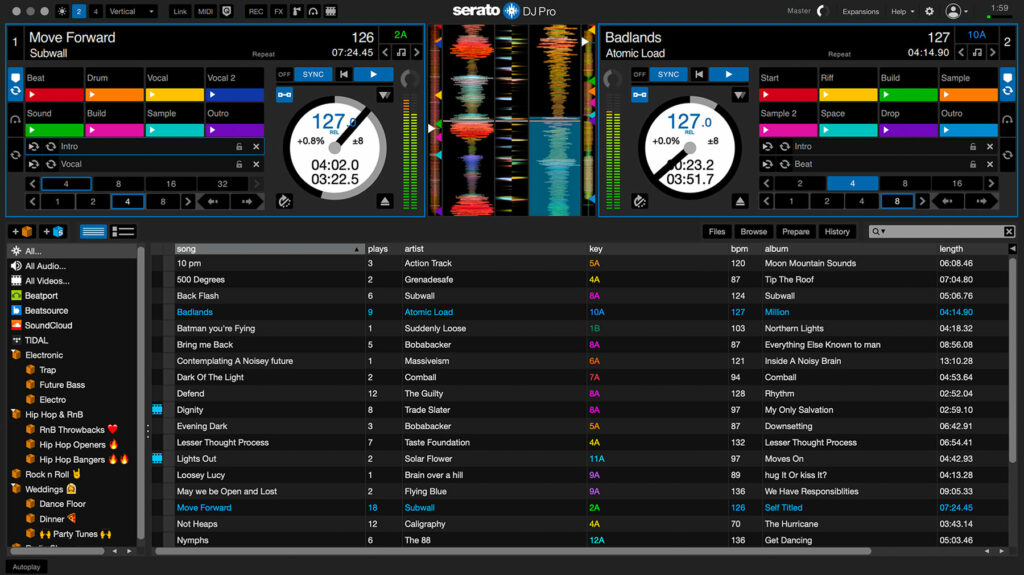 Serato Dj is one of the most popular DJ apps in the U.S. For a while now, the company has remained one of the DJ-making industry players.
It offers a plug and a play assistance system for a range of solid digital options. It is so versatile that it has some excellent sound effects. Serato Pro is not free, but Serato lite is a free DJ app for PC free download.
SERATOR PROS
Serator has a free version.
The interface of Serator is user-friendly.
It has music streaming integration, video playback, and modern performance features.
SERATOR CONS
Serato lacks in terms of integration.
MIXXX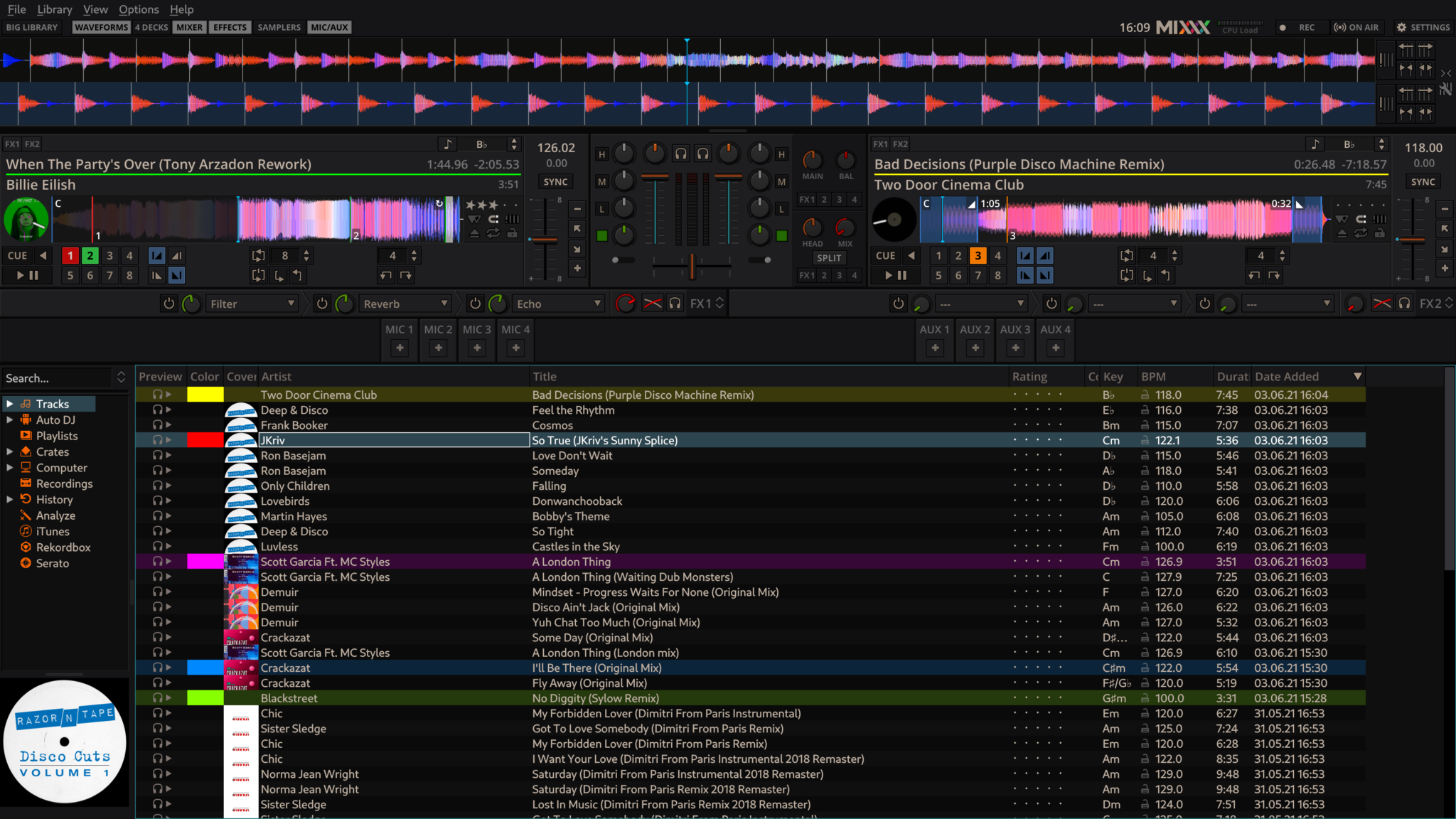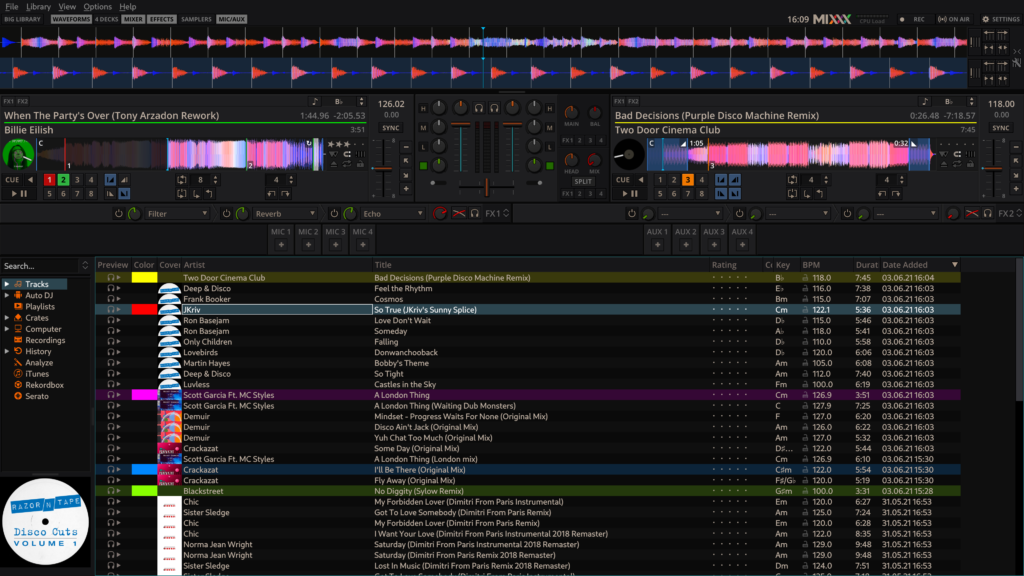 Mixxx is the best free DJ apps in 2022.
Mixxx software comes with twin DJ desks, each including scratch-able elements. The software is entirely free as it does for easy usage at any time. This software is compatible with Linux in case you're a Linux user.


It also has excellent RGB waveforms, Fx chaining, and harmonic mixing features. MIXXX Dj software is not created and maintained by one company but by a community of people who work to improve it.
MIXXX PROS
The device compatibility is excellent.
It is open-source software, so you quickly improve the design of the software yourself.
It has an accurate BPM detection and sync.
The sound effect of mixxx is good, and it runs on a no-frills laptop with no external card.
TRAKTOR PRO 3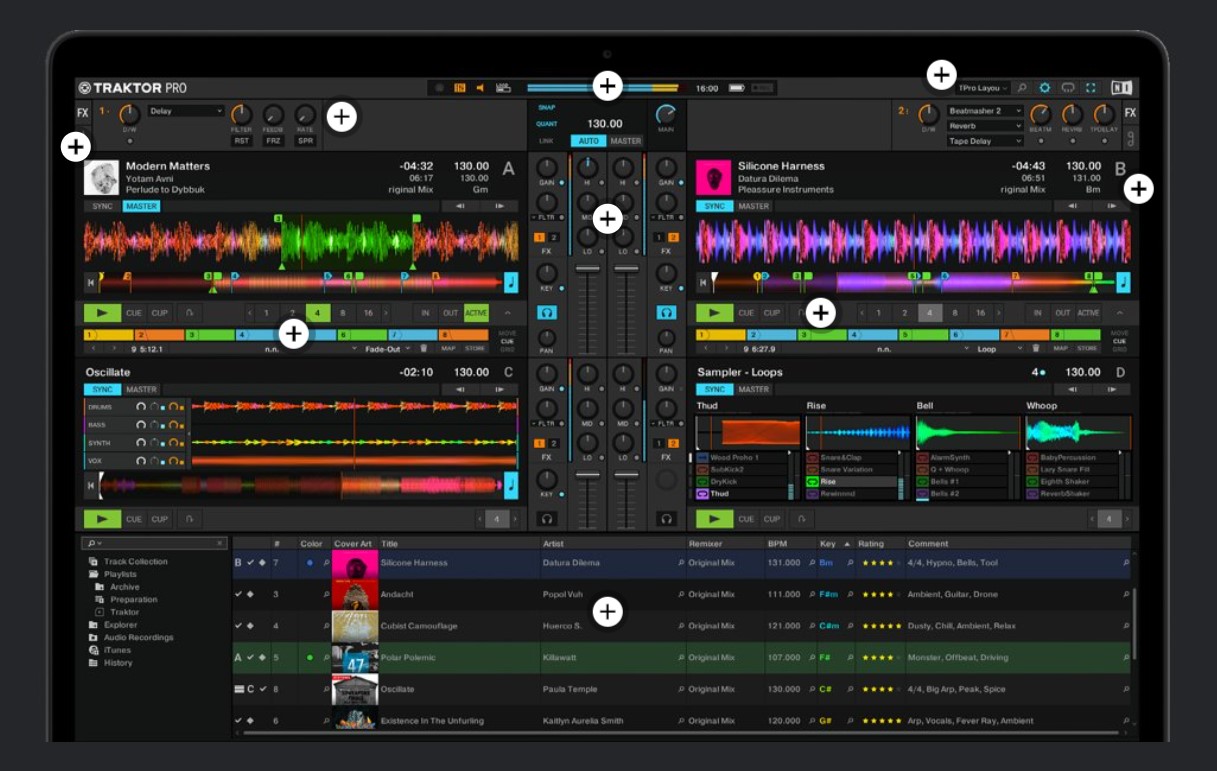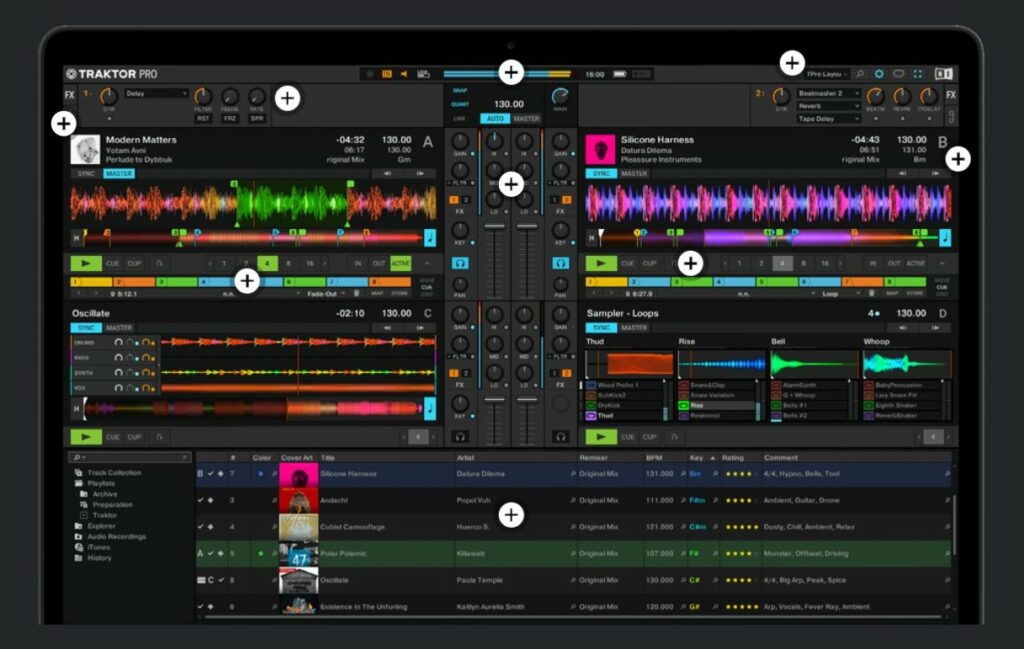 Traktor Pro 3 is one of the best DJ software with an incredible set of sample desks to a range of remix and loop recording options.
Decades ago, it was a popular platform but going with the recent development, Serato and Rekordbox now replace it. It doesn't have a USB option. This particular software has separate hardware that is more compatible.
TRAKTOR 3 PROS
Traktor 3 pro is suitable for DJs who use native instrument production gear.
It has excellent sound quality.
It comes with a free remix set
It has a free demo
You can use the mixer without a laptop if you have the Traktor Kontrol S4 MK3.
TRAKTOR PRO 3 CONS
Traktor pro 3 has a lot of complex settings and complicated workflows.
It has so many limitations; not flexible and beat gridding.
The session only lasts 30 minutes each time you restart the app.
This app has no custom tags.
Unlike Ableton live, it is more like a classic DJ tool than a producer tool.
VIRTUAL DJ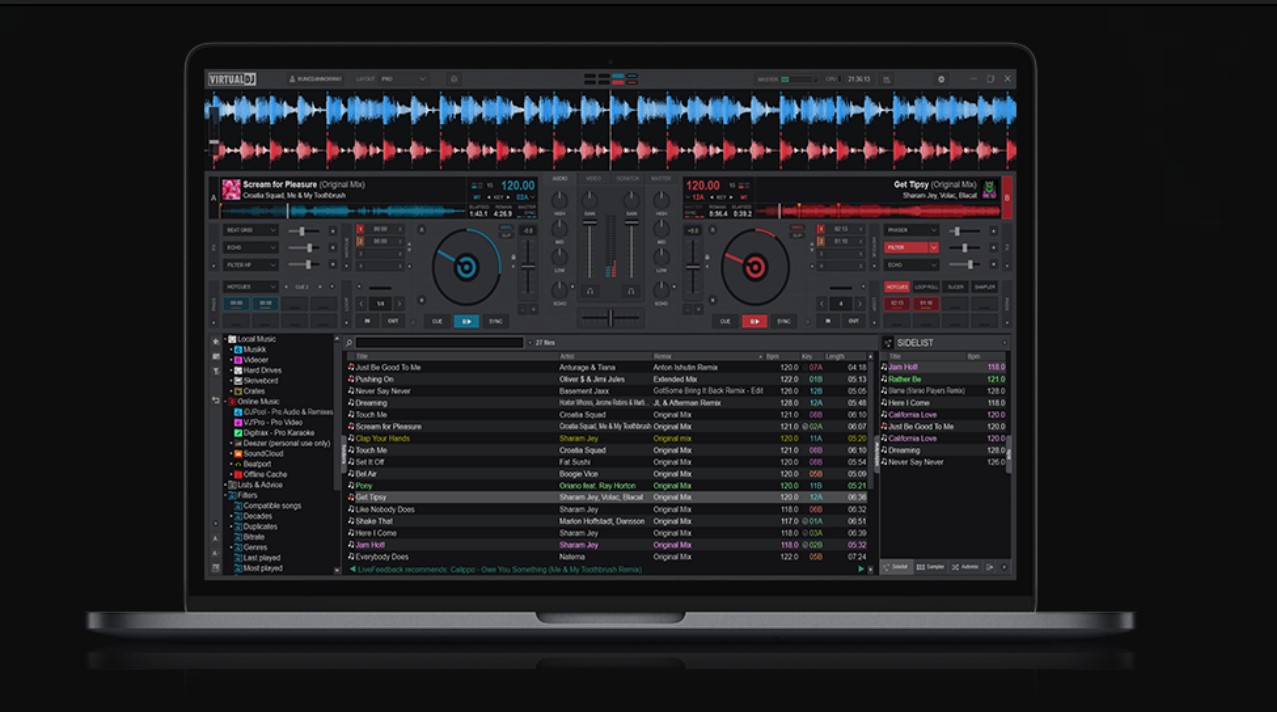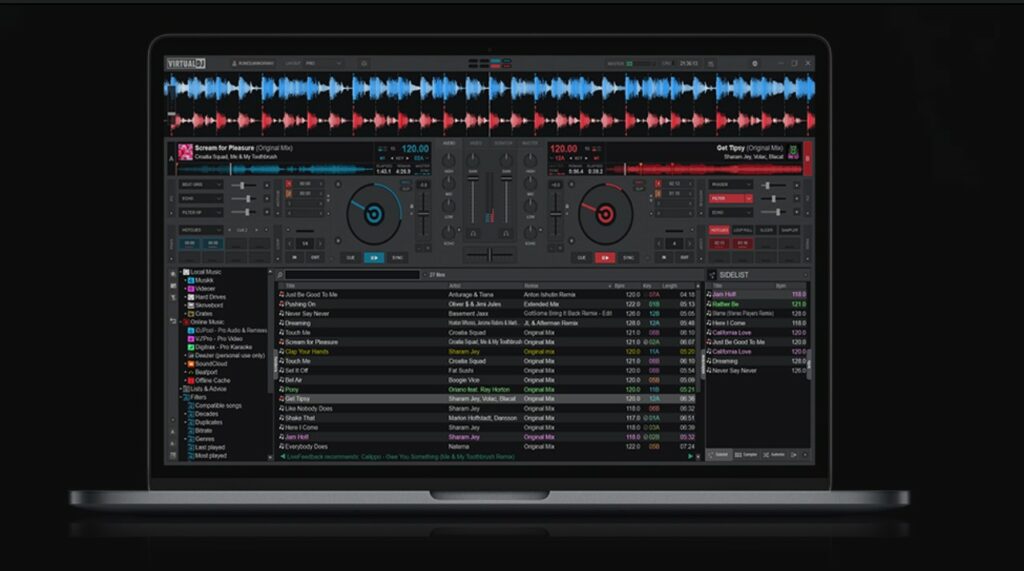 Virtual Dj is also a popular type of Dj software like Ableton, Serato, and others, but it is very pricey.
However, this doesn't guarantee that it is the best DJ software. It is a great starting point for beginners as it is entirely free for nonprofessional users. And also, for those who want to play around before getting the paid version.
Virtual DJ has a stem separation used to separate drums, bassline, or any other track element without having instruments like acapella.
There's a sandbox feature in virtual Dj for viewing your private mixing.
VIRTUAL DJ PROS
Virtual DJ has an excellent user interface
The paid version is optional if you want to upgrade to a higher level.
The stem separation technology is impressive.
Virtual Dj is an enhanced sampler.
There are many tutorials available on this particular software.
It has an excellent video mixing function.
Laptop friendly
Virtual Dj has an event scheduler to help you run programs.
VIRTUAL DJ CONS
Virtual DJ has no free trial.
It doesn't come with a DJ controller.
You cannot use it for DJ live.
PIONEER REKORDBOX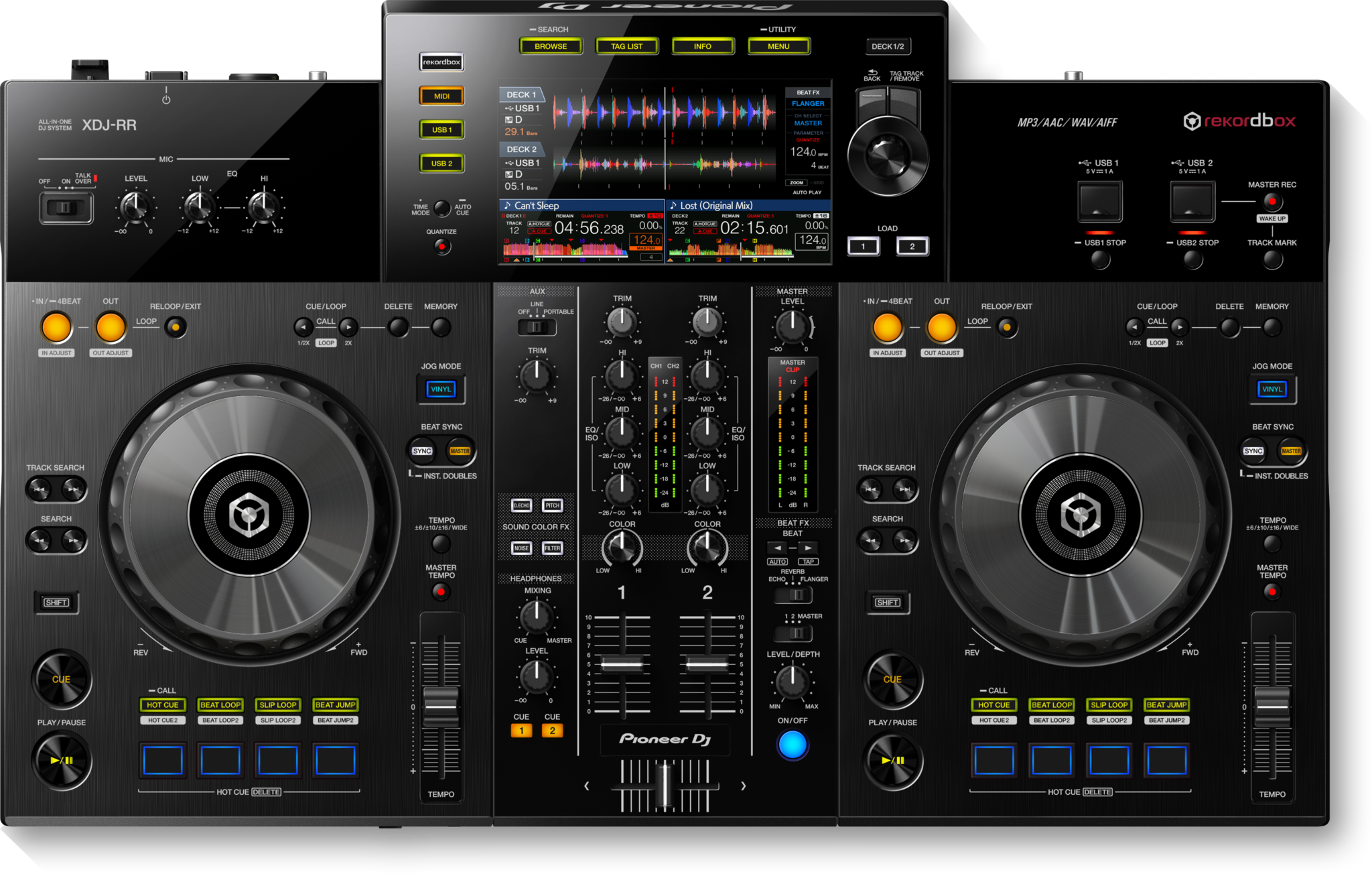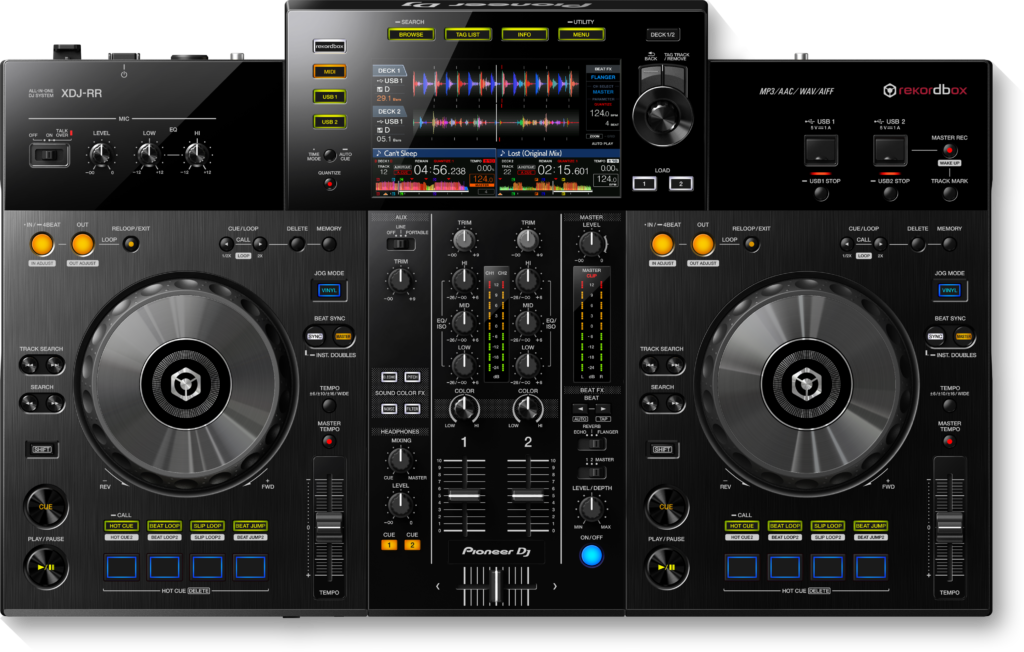 Pioneers are the makers of Rekordbox software. Pioneer is among the biggest names in the DJ game, and rekordbox is its platform. It allows you to access a track before playing it. Rekordbox has a unique lighting model.
This DJ software for PC offers excellent music management and track preparation environment.
PIONEER REKORDBOX PROS
Pioneer Rekordbox has a built-in streaming service, video playback, lighting control, and cloud management features.
It has a professional sound quality.
Reliable
It has lower latency than most apps.
It offers a lot of mixing options.
PIONEER REKORDBOX CONS
Rekordbox works best with the pioneer app.
The advanced option is a paid service.
It is only compatible with pioneer PRO.
ALGORIDDIM DJ PRO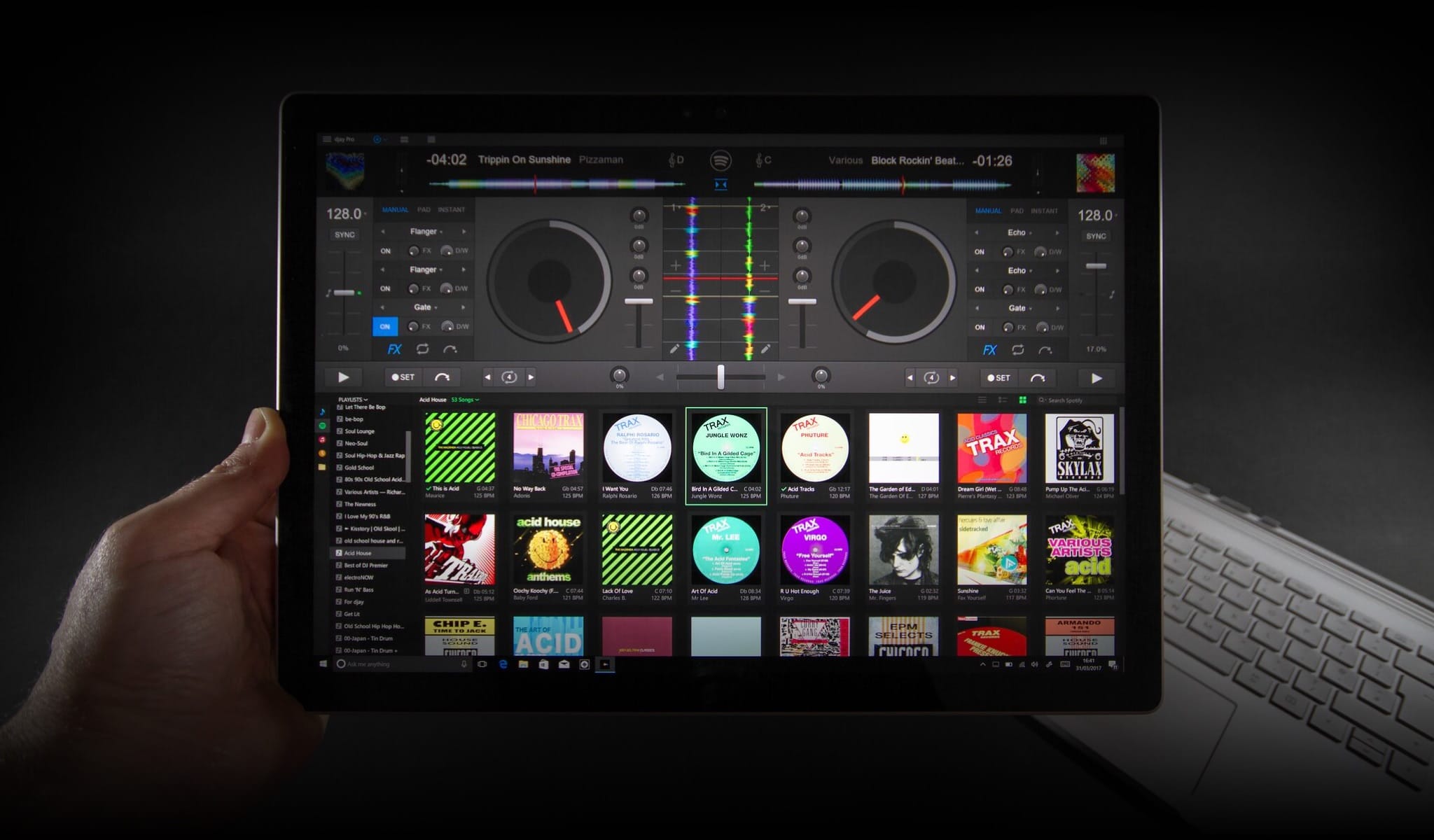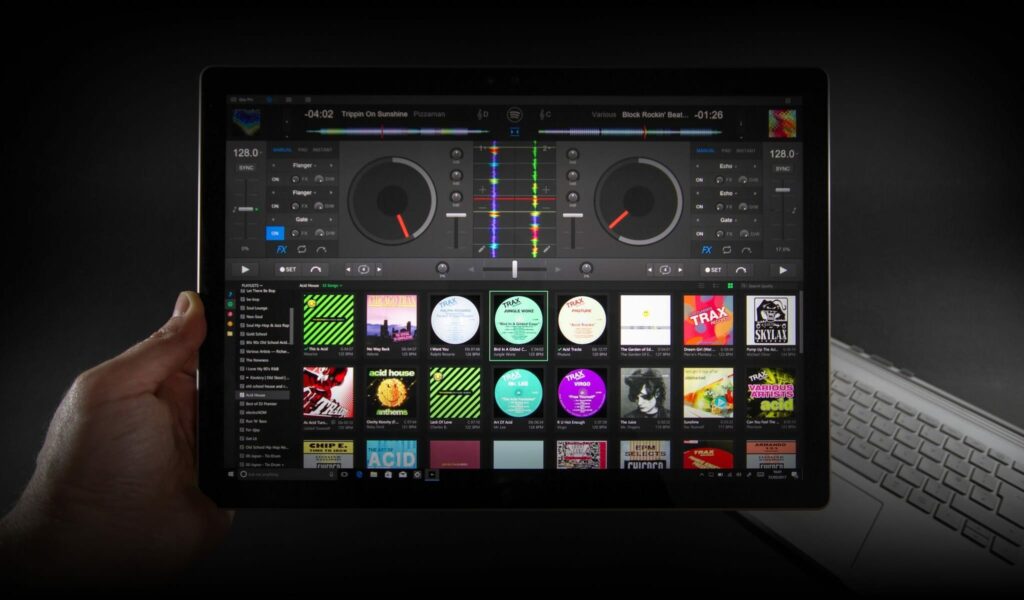 Algoriddim Djay Pro covers a wide range of platforms from windows to mac and android.
Since it has almost all mobile software features, we choose it as the best DJ program for PC and mobile.
What Algoriddim DJ offers depends on the platform you will be using it on. It works best on Apple, while other platforms like Windows lack.
With this, you can easily switch from two desks to 4 desks, and it has expanded library layouts to match your preferred mixing style. Algoriddim is arguably the best DJ app on this list as it covers a slick UI, a lot of power hidden underneath and an easy-to-use workflow.
ALGORIDDIM DJ PROS
Algoriddim DJ pro iPad version is as good as the desktop version.
It has an auto-mix mode that is suitable for house parties.
It is also compatible with over 50 controllers.
ALGORIDDIM DJ CONS
Algorithm Dj is a subscription-filled Dj app.
The iOS version gets updated first before the windows.
The android version suffers a lot of lags.
You can't trigger voiceover tags because of the inability of its samples to load.
MAGIX DIGITAL DJ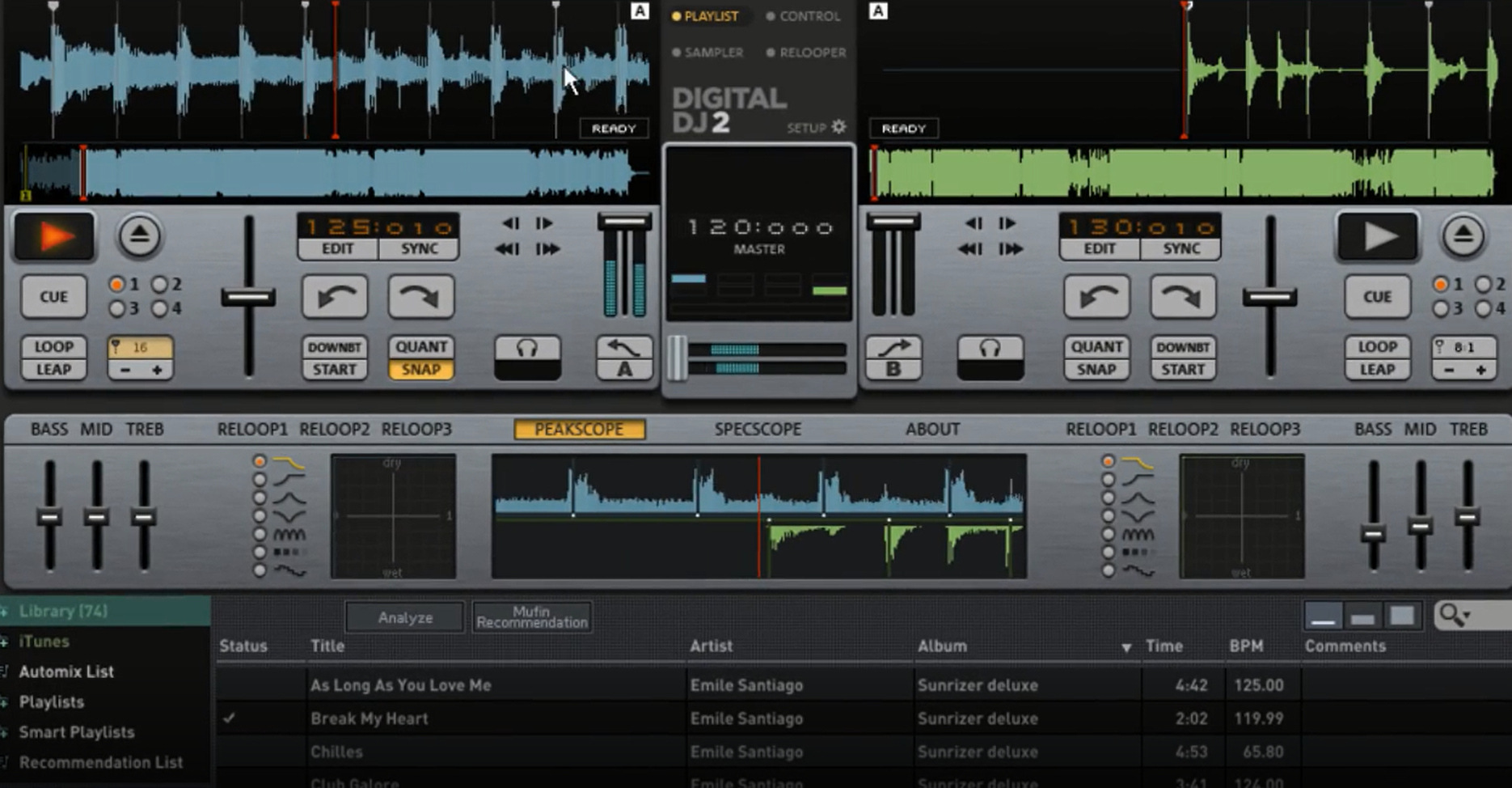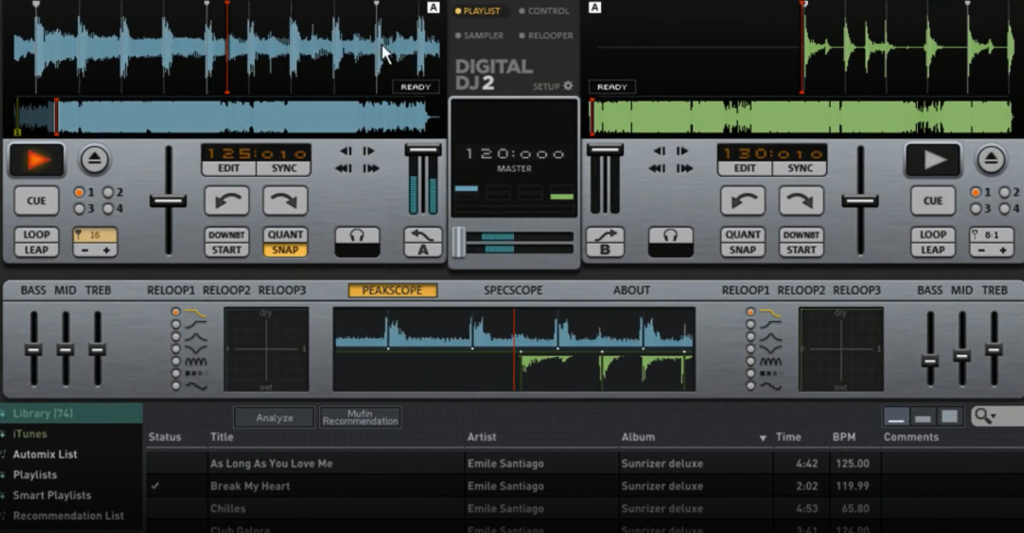 For aspiring DJs who are willing to spend some time learning from the beginning, Magix Digital Dj is most suitable for you. It is a user-friendly DJ software and not difficult to understand. Magix is compatible with both mac and windows. You can play some remixes on it without needing extra software. With Magix Digital, DJ songs saved on iTunes are daily dragged to the right deck to aid in mixes.
MAGIX DIGITAL DJ PROS
Magic Digital DJ is very affordable
It is an essential DJ software
Works in Mac and PC
MAGIX DIGITAL DJ CONS
Learning takes time on Magic Digital Dj
It is limited to learners only.
ENGINE DJ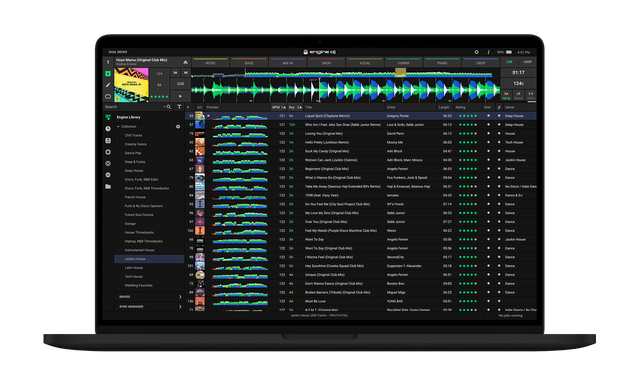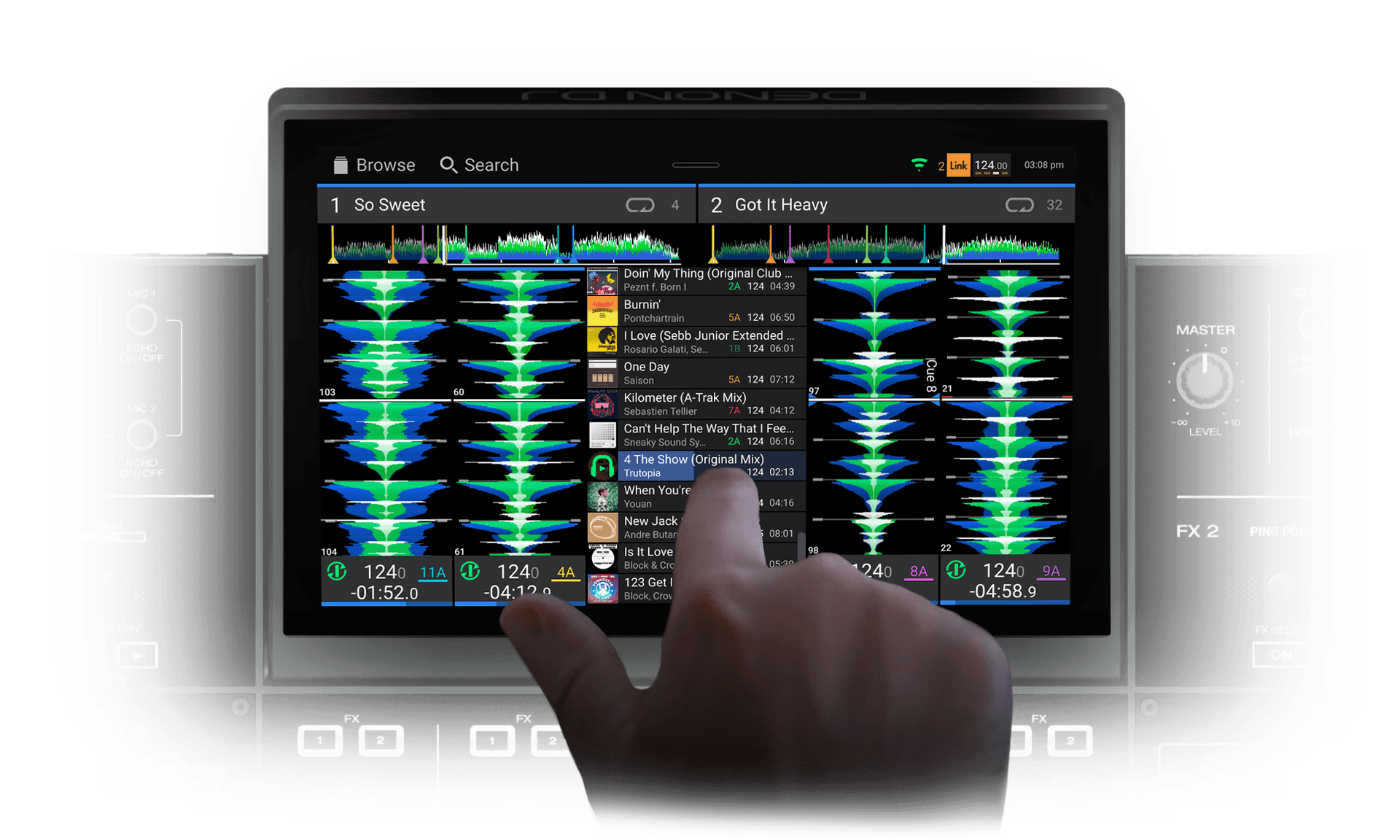 Engine DJ software is designed mainly for library preparation tools.
It is similar to Rekordbox, but the only difference is that you can use Rekordbox as a laptop DJ software while you can't do the same with Engine Dj.
It has a slick operation.
ENGINE DJ PROS
With Engine DJ software, you can easily use the gear without using desktop software.
ENGINE DJ CONS
Engine DJ has so many limitations.
PCDJ DEX 3
PCDJ Dex 3 is a versatile platform for music production. The operating system is mac and windows with standard features like 4 deck mixing and cue points. If you want to expand your setup and have fun while performing, there are many options to choose from.
If you have digital music on iTunes, it automatically imports your playlists so you can start working immediately.
PCDJ DEX 3 PROS
PCDJ Dex 3 saves time.
It has a good user interface.
You can easily use it during karaoke nights for a little bit of video mixing.
It's more flexible
IMAGE LINE FL STUDIO 20 PRODUCER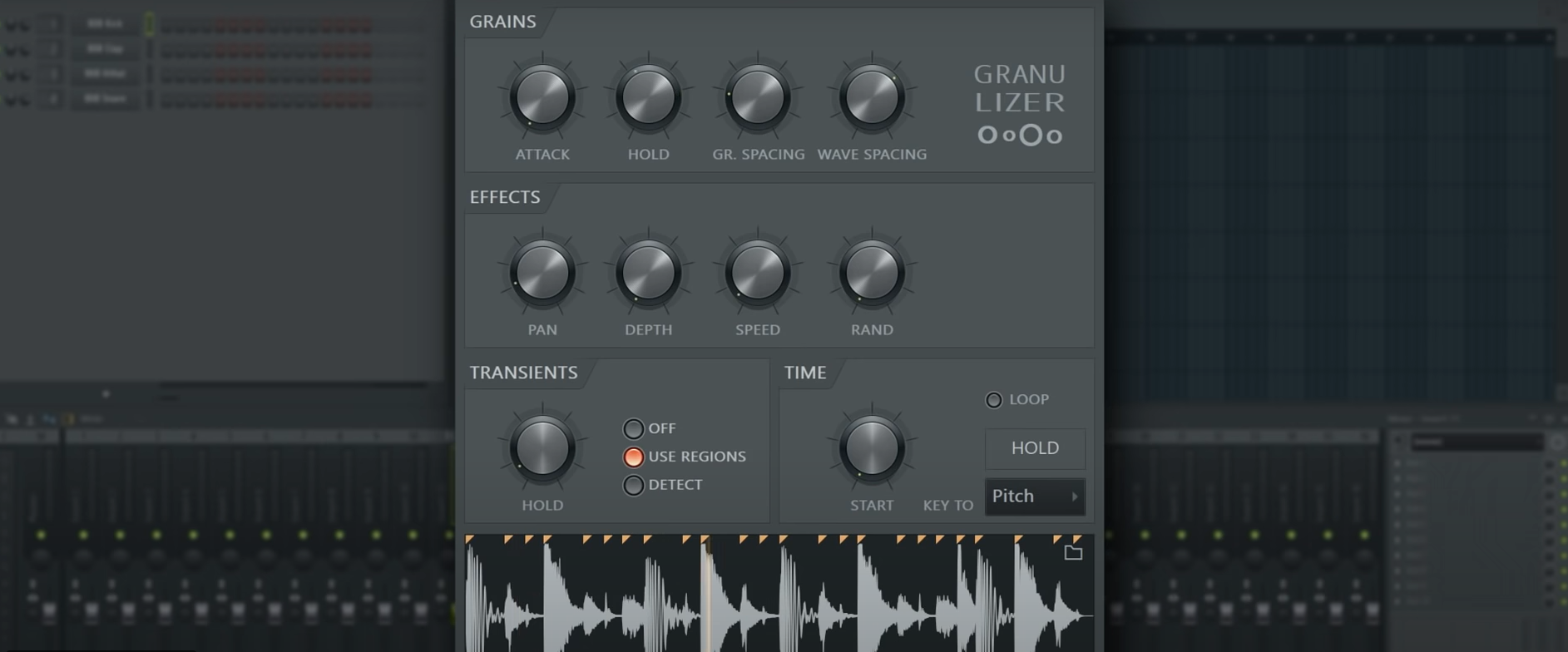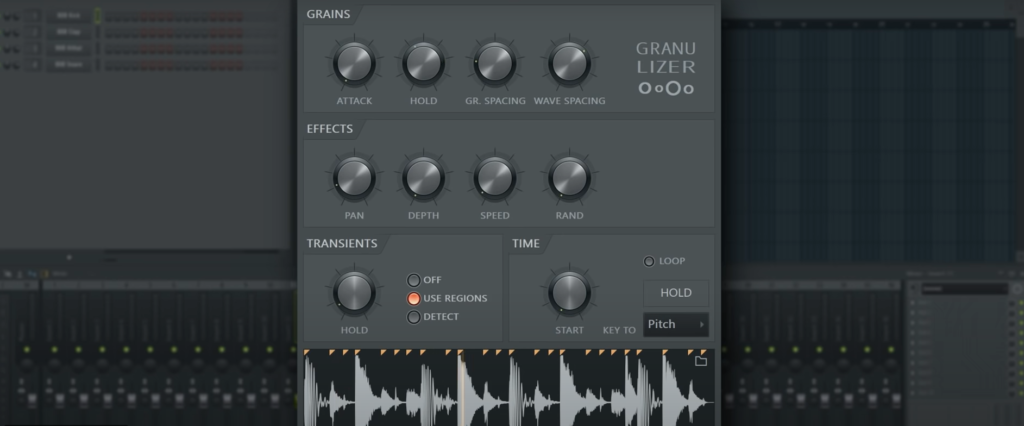 Image-Line FL Studio 20 DJ software uses a piano roll to send notes and automation data to plugin instruments.
It allows you to create tracks whenever you want to, with ease.
With image line fl studio 20 producer, you can save files and export them with a range of audio formats, from mp3 to WAV, which allows you to share in seconds.
PROS
Image Line Fl Studio 20 Producer is a professional standard Dj software.
It features an array of effects and high instruments.
It also gives you access to a wide range of third p-party plugins.
CONS
Image Line Fl Studio 20 Producer is only for professionals as beginners might find it challenging to mix music.
The side-chain control feature might be complex for a learner.
CONCLUSION: THE BEST DJ SOFTWARES FOR DJING
Dj software's helps to perform several tasks, and it also saves time as it analyzes important track information such as tempo and key.
This list is carefully analyzed and reviewed to help you find the best DJ software for PC if you find it difficult to place a hand on the best bet. Starting a Dj work can be difficult, but you will be ten steps above your competitors with the right tools listed in this article. The beauty of DJing rests on mixing unique sounds and pleasing to the ear.