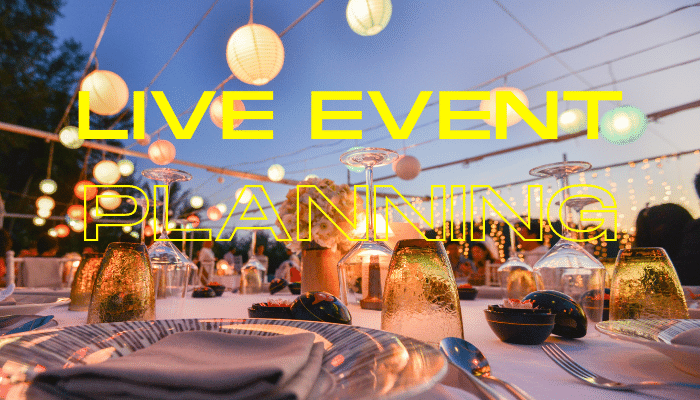 What is Event Planning?
Event plan or Event planning is the process of designing and coordinating event outcome. It may be a single event or a series of events. Event planning is also called event management.
What is The Job of an Event Producer?
An Event Producer is responsible for managing the flow of special events according to client requests and specifications. Event Producers cooperate with various suppliers and organizations, such as 4am, to plan the event and identify resources that meet quality standards.
Event planners are typically in charge of the following tasks:
Ensuring that all necessary equipment and personnel are in place.
Planning the event's budget.
Scheduling the event's timing, location, and date.
Selecting food and beverage vendors.
Choosing entertainment for the event.
Coordinating with other service providers such as caterers or rental companies.
Please get a Notebook and Pen now as you follow our ultimate checklist, which we will share with you right away.
Note: we use event planners, event producers, event organizers, and event managers interchangeably in this article since they have the same meaning and job description.
Want to plan your perfect event? Here is an event master plan you should consider before starting.
Perfect Local Planning Event RoadMap
Having an event roadmap will help you know the next-in-line steps to take and serve as a checklist.
We have divided this checklist into three processes, and following them step by step will help you achieve and plan a fantastic event.
Brain Storming Stage ⇾ Cross-Checking Stage → Taking Action Stage = Perfect Local Event Planning
Event Type.
Estimate numbers of people to attend.
Understand your event goal and objectives.
Set up a Team (Out-Source).
Know your budget for the event.
Test Tech Equipment.
Create an Event Master Plan.
Choose Your Event Venue and Date.
Know Your Event Theme.
Be Sure of Event Speakers & Special Guests.
Create a Promotional Plan or hire an event marketer.
Plan your event program.
Let's better understand these terms and how they will help us make a better event planning decision.
First on our list is Event Type.
What is event type and why is it important?
Event Type
You must define the event you are trying to host and know what people that will attend will be like; that is in size and style, way of life, and every little detail as much as possible. Doing this will help you set up the event and its themes.
There are three main categories of events, each with an example. The breakdown of the different types of events is as follows:
Private events
Private events are typically for individuals; such events can be a wedding, an anniversary, or a party like a birthday party. These events are often hosted at home, at a hall, or at a hotel, and guests can be invited individually to the event.
Corporate events
Corporate events are for business promotion. They can be for internal purposes such as celebrating milestones, meetings, business dinners, or team-building exercises.
Or they may be for external purposes such as trade shows, conferences, seminars, product launches, and customer events to promote the company's brand and products to potential customers.
Corporate events are often themed with props that evoke emotions such as nostalgia or wonderment in attendees.
Charity/fundraising events
Charity events are usually fundraisers organized by non-profit organizations to raise money for their cause and help those in need.
Below are some of the examples of charity/fundraising events:
Society balls
Sponsored run
Charitable auctions
There are many different types of events, each with its purpose.
Events are designed to create a memorable experience for the attendees and generate interest in the company or organization.
It's essential to know the type of event you need before planning your event.
Create A Local Event Goal and Objectives
Mainly, the goal of an event is to educate, entertain and motivate the audience. It is essential to know what you want your attendees to take away from your event. You should align your objectives with your goals to help you achieve them.
The objectives should be measurable and achievable. They should also be realistic and relevant to the event topic, audience, and time.
Brainstorm Names
When you're brainstorming the event name, ask yourself:
How is your event different from other events in your sector?
What are you hoping to convey through this event?
What are the main components of your event?
Create a Tagline
Once you've come up with a name, craft a tagline – a short, memorable branding slogan that describes the event.
Design a Logo
If you're planning a significant event or recurring event series, make sure you've created a logo. A logo can be an effective branding tool – offering immediate recognition of your event in all your publicity and promo items (such as t-shirts, water bottles, bags, and more).
Create Your Visual Identity
Create a cohesive visual identity for your event to bring everything together. Choose a particular font, color(s), voice, tone, story, graphics, and thematic elements. By doing so, you're creating a memorable experience for your attendees.
Once you have your name, tagline, and logo, use it in all your marketing collateral so that people who do not know you or your event will notice you.
Be Sure of Event Speakers and Special Guests
Sometimes, in a wonderfully planned event, speakers or the special guest of honour fails to show up.
To ensure everything is in good condition, call each event presenter or speaker and be sure they will attend the event. Do this before the actual day and on that day before starting your event. If they fail to come, you know how to replace them or rearrange your schedule.
Know your budget for the event
Estimating the number of people that will attend an event will help you set enough budget for planning your event. This will also determine the size of the event. Be sure to have an adequate budget aside for an emergency. Know your working and spending budget.
A live event budget is a plan used to decide the amount of money that can be spent and how it will be spent for live events.
You can make a processing budget, that is, a rough estimate of what to use the money on. With this, you can ascertain what is essential and unnecessary for the event.
Choose Your Event Venue and Date
Since it is not a virtual event, you must ensure that your local event center is secure and convenient for your invitees.
Promote Your Event
If your preparation is all set, and you feel the event will be a mind-blowing one, but you fail to promote the event (getting the word out), you would be shocked at how little or nobody attends your event. This turn of event wastes efforts and time.
So, you have to take digital and social media advertising as top priority to getting the word out to the targeted audience. Word of mouth, flyers, handbills, and banner ads will do a great deal in marketing your event.
Put efforts in promoting your event more before the event date. To create a social buzz around your event, it's essential to have the right influencers and hype-men talking about it. These people have a lot of followers and can reach beyond your target. Get the perfect influencer services for your event by researching and finding them out.
A timely and compelling theme can be just the thing that sets you apart from other events. Choose a dynamic theme and apply it to all elements of your event, including its name. Highlight the features that make it unique, especially in online media, because this can attract people to attend your event.
Other Things to Consider
Date: Your time frame for the event.
Attendees: Will this be a 100-person event, a 1,000 person, or a 10,000-person event? It would help if you began to think about the size. Are your attendees coming from around the country? If this is a local event, you'll also want to keep your attendees' demographics in mind as you plan.
Location: Is your event local? Start to create a shortlist of cities and venues that make sense for your event. When picking a venue for your event, make sure to consider the following:
Accessibility: Does the venue have accessible entrances and elevators? Are there all-gender washrooms? Will you have space for interpreters or a live-captioning screen? These and many other factors go into choosing a space where all participants will feel comfortable.
Size: An event for 100 people will need a very different space than one for 5000. Additionally, consider whether you'll need separate rooms for breakout sessions or other small group activities (or, hey, even a green room for your speakers and VIPs!).
Parking: Is there a parking lot, or is it easy to access via public transit?
Plan Your Event Program
The famous saying, "If you fail to plan, you are planning to fail" is true. You'll need to develop an event master plan that includes your event schedule and the above line items.
About 4am.tv
4am.tv is a live event and wedding entertainment company in the US. We organize and produce live music and DJ for your special day. 4am.tv is the perfect partner for your upcoming event. Let's help you plan your wedding event.
Want us to work together to make your event unforgettable?