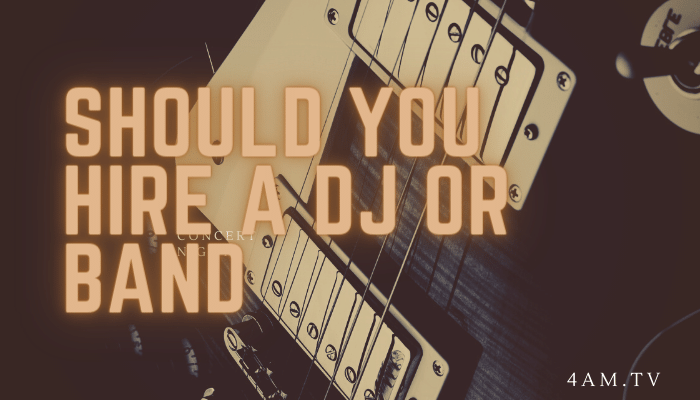 Should I hire a band or DJ? Whether you're throwing a wedding, business event or holiday party, the music you pick has a significant impact on the overall experience. 
Your emotions and well-being are influenced by music. It can elevate people's emotions, increase their energy levels, and create a serene environment.
However, selecting the right entertainment for particular gatherings may be difficult, and the decision between a DJ and live band music is often a sticking point. Which is more appropriate for your occasion?
The pros and cons of hiring a live band vs. a DJ:
Consider the pros of hiring a live band for your next event.
Motivational abilities: A live band may energize your audience. It is ideal for weddings, parties, and other high-energy dance events.
Improved interaction: Band leaders with charisma can energize a crowd and alter gears on a dime. To satisfy the group, bands might change the speed of a range of songs.
Everyone entertains: Dancing, listening to, and seeing a live band is a lot of fun. Even those who do not dance will appreciate the show.
High-definition audio: The sound of a live band is just superior. It isn't going to make or break your bat/bar mitzvah. Still, if you're organizing a business event with key stakeholders, you'll want to ensure they have the most satisfactory experience possible.
Wow: The dynamic and exhilarating nature of people making music together is unrivaled. Bands can provide and inspire more emotional connections, which is ideal for a party or wedding.
Check out the cons of hiring a live band for your event.
It is more costly. Bands are more expensive since you're paying for the services of numerous people. If you're already on a shoestring budget, this might stretch it even farther.
There is less diversity. No matter how good a band is, the players only have a limited repertoire of tunes. They're also likely to specialize in a particular genre, such as rock, R&B, or country.
There is more room. Because they have more equipment, a live band takes up more room in your venue. Do you have the necessary space?
The amount of information. Most bands turn up the level, which may be overwhelming for some attendees, particularly in smaller venues.
Last-minute changes. You were blown away by the main vocalist. If they get ill, you may be forced to hire a replacement.
Consider the pros of hiring a DJ for your event.
The price. A DJ is usually less expensive than a live band.
Setlist customization. A DJ has access to tens of thousands of songs, allowing you to tailor the playlist to the occasion and any unique requests.
Simple to swap out. If your DJ becomes ill, they will (ideally!) have a backup plan in place. It's simpler to play songs than it is to nail the high notes of an Earth, Wind, and Fire song.
There is less room. A DJ and all of their gear may fit into a much smaller space than a whole band.
There will be no breaks. Your DJ will play the music all night. They can even queue up a few tracks to mask their absence if they need to take a little break.
Consider the cons of hiring a DJ for your occasion.
There will be no improvement. A DJ can't slow down the tempos or play an extended solo to compensate for the lost time.
There is not too much improvisation. Your DJ may believe that making jokes will keep the audience engaged, but this might backfire.
Volume control. A DJ can adjust the volume to keep things respectable in a small-to-medium-sized indoor venue, but vast outdoor events present a different dilemma. To avoid distortion, you'll need a sound crew.
Failure of the equipment. A band may perform without a sound system (or even electricity). A DJ is unable to do so. There is no music if anything goes wrong with the equipment.
It's a one-person show. Some DJ does not have the same showmanship or flair as a live band. Some choose not to speak at all, instead quietly spinning melodies in response to requests.
How to figure out whether you need both a band and a DJ for your event:
Hiring a band and a DJ for large-scale events gives visitors the best of both worlds.
Are you planning a wedding? Allow the band to perform throughout cocktail hour, the first special dances, and supper. Arrange for a DJ to keep the party going all night.
Are you planning a business function that will last all day? Employ the services of a DJ for casual background music throughout the day and a band for the evening celebration.
When the band stops playing, the DJ takes over for a few songs. Allow the DJ to accommodate specific song requests in the intervals between sets.
Hiring a band or DJ for an Event in 7 Easy Steps:
Look for inspiration on the internet.
Don't know where to begin your search? On services like Spotify or Soundcloud, you can get a sense of what a DJ sounds like. And nothing beats a Google search for finding a band or DJ for an upcoming event.
Luckily, you don't need to do a lot of research for a quality DJ for your event anymore.
We are the solution for all your DJ needs.
Click here to discuss your needs.
Look at the DJ and the band's website.
A well-designed, comprehensive website implies that the DJ or band meets your expectations for professionalism. Videos and playlists on the website should give you a good impression of their skill, style, and how they interact with visitors.
Make an appointment to meet.
Meet with the DJ, band, or their artist management company before deciding. Websites and demonstrations may reveal a lot about a person's abilities, but nothing surpasses seeing them in person.
Stick to the services of seasoned pros.
You have a buddy who can play a few songs on the piano. On weekends, you know someone who performs in a pub band. Are they, however, professional enough to make your event a success?
Make sure the performer is appropriate for the occasion.
Do your homework and look for DJs and musicians specializing in the kind of event you're throwing. A band may not be the best pick for an after-party at a professional conference. A DJ with expertise with large-scale events may be out of your price range, whether you're doing an anniversary party or a fundraising gala.
Request recommendations and read online reviews.
Request referrals from persons who have already utilized their services. Also, look into company review sites like Google Reviews and Yelp. DJ Hiring reviews like these on our website can help you pick the right company to book the best DJ for your event.
Take into account the price.
DJs and live performers with a known track record may cost a little more, but they are frequently well worth the additional money. Emerging performers and DJs are good options for small-scale events, but you should see them perform first.
FAQs – Should I hire a DJ or Band?
What role do you envision us playing at your event?
The ideas of various band leaders and DJs vary. Some people consider themselves entertainers, while others feel like just performing music. Consider what you want ahead of time to hire someone who can do the job.
At my event, who will perform or DJ?
If you hired a band because the vocalist has a great voice, double-check that they'll be the ones performing at your event. Many bands change their lineups for various occasions, and some DJs have backups. There's nothing wrong with this, but you want to ensure you're obtaining the right person for the job.
How do you choose music for a special occasion?
Do some research and think about who your target audiences are.
Choose music that is appropriate for your environment and guests.
Think about the sentiments you want to generate with music at various phases of the event.
Is it OK to have live music at a business event?
First and foremost, think about your budget. Live music is more costly and more potent than recorded music or a DJ, but it offers a smaller selection of alternatives. Consider combining live and recorded music to get the best of both worlds!
What is the cost of hiring a band or a DJ for an event?
A dance band might cost anywhere from $3,500 to $7,500 for an event. A DJ can cost anywhere from $200-$500 for a part-time DJ to $2,500 for a full-time DJ. Do your homework ahead of time!!!
Conclusion: Should I hire a band or DJ?
Should I hire a Band or DJ?
You can hire both. A band and DJ can work together really well to create a great atmosphere. Live bands are much more expensive but can make a difference in the atmosphere of your event. The DJ will keep people on the dance floor while the band provides entertainment between sets.
If you're looking to make an impression, hire both.
You're now ready to hire the best DJ or band for your special occasion!
4am.tv is a music talent management and events company based in New York City, specializing in live performances for the nightlife, events, and weddings industries. With a focus on DJs, producers, and other live music entertainers, 4AM has worked with hundreds of artists and venues, leading to thousands of events, since our inception in 2010.